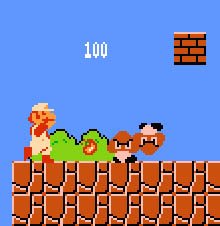 CB: Told ya. M: Pop! Pop! Pop pop! Hahahahahah! CB: Heh.
M: Whoa. Did you just kill a turtle? Not cool dude. He looked scared. I could have just jumped over him. CB: Uh-huh. Or maybe you could have run around him? M: What's "around" mean? CB: Nothing. Just checking something. ________
LATER
M: OwOwOwOwOwOwOwOwOwOw. Fucker! So what's the deal again with all these coins I'm getting? CB: If we collect a hundred of them, you get an extra life. M: Cool. Very cool. Followup question: Why would I need an extra life? CB: Hmmmmmmm. M: Hmm what? CB: Hey, check out that flag! M: Oh cool! _________
Level 1-2
M: So these blue guys are just like before, except now they're blue. CB: Yeah, exactly the same. We're dealing with a pretty limited palette I'm afraid. M: Oh! Careful! Watch the turtle! OW OW OW OW OW OW! CB: Shit. Sorry dude. M: You fucking dumbass! That really hurt! And now I'm tiny again? How does that work? CB: It's cool. I'll be careful. M: Oh you'll be better than careful. You're going to murder every turtle you see from now on. I mean it. Turtle holocaust. Go. ________
LATER
CB: Hey, how do you feel about warping? M: I don't know what that means. CB: It means we get to skip a bunch of levels. Beat the game faster. M: Will we bypass any turtles? CB: Oh yeah. Bunches of them. M: No deal. Those guys have to go. CB: OK, no warping. Let's do this old school. M: Old school! ________
Level 1-4
M: Jesus Christ, where did all this lava come from? How deep do these pipes go? CB: This is a boss level. They like lava. It's kind of a cliche now, but this was pretty cutting edge in 1985. I guess lava is more intimidating? M: Damn right it's more intimidating. Careful! CB: Relax, this is an easy one. I haven't even died yet. M: What? CB: Nothing. M: No, seriously, what did you just say? CB: Can't talk now. M: Whoa! Look at the size of that bastard! Let's jump on him!
CB: Not a good plan. M: Holy shit! He's shooooooooting at us! CB: Hang on. M: Don't land on that axe! That's gonna kill! Hey. What just happened? CB: You won dude. Congrats. M: Boss!
CB: Now run in there and meet the princess! M: Yeah! CB: - M: Who's this little turd? CB: Heh heh heh heh heh. M: Oh you bastard. _______