Level 2-1
CB: Oops. M: AHHHHHHHHHHHHHHHHHHHHHHHHHHHHHHHHHHHHHHHHHHHHHHHHHHHHHHHHHHHHHHHHHHHHHH! M: What the hell happened? I was falling into a bottomless pit and now I'm back out here. CB: Oh, so you can remember what happened. I was wondering about that. M: Did I... die? CB: Total accident dude. Sorry. Did that hurt? M: Physically? No. I don't think so. But that was terrifying. Like my brain was just sundered in two. It feels like I'm still screaming. Like I'll never stop screaming. CB: Bummer dude. Well, we've got three lives left. Let's go. M: What? Wait! We're going to keep going? CB: Can't turn back. See? M: Wow. Where'd everything behind us go? CB: Excellent question. ______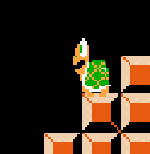 Level 3-1
CB: Oh, I remember this bit. M: What bit? CB: Hang on. We can get a whole bunch of extra lives here. M: Yes I see the point of those now. Let's definitely get a whole bunch of those. How do we do that? CB: You jump on that turtle there about a hundred times or so. M: Fuck that turtle. Let's fuck up his whole day. _____
Level 4-2
M: Seriously, I'm going to kill the next guy that lives in a princess-less castle. CB: Heh. Yeah, they're notorious. Hey, has your attitude towards warping changed? We're coming up on another one. M: Fuck this noise. Let's hit it. _______
Level 8-4
CB: I said I'm sorry all right? The eighth world is fucking hard! M: You know what's hard? Plummeting into bottomless pits, getting beaned by a dozen hammer throwing cocksuckers and having bullets the size of a car smash into your face. How about you take all the dicks out of your mouth, and then stop killing me? CB: Hey. It's not that simple,
ass
. You have any idea how floaty the controls are on 25-year-old video games? You handle like a fucking post office. M: Oh this is my fault is it? Well maybe if your parents weren't twins your thumbs wouldn't come out of your wrists. CB: Hey? You know what? Fuck this. I've beaten this game a billion times before. I've got enough material for this column. See ya later chump. M: Fine with me penis-sheathe. Better off without you. CB: Oh yeah? Hey, how'd you like it if this masking tape played for awhile? M: What?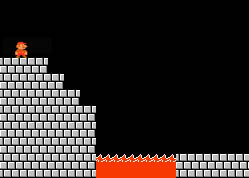 CB: Yeah? See that lava over there? How'd you'd like to run into that 82 times in a row?
-tapes down button on controller-
M: YOU BASTARD! CB: Hahahahahahahhahah -walks out of room- ______
LATER
M: ARGHAAAHHHHSFHGDN CB:
-eating nachos, laughing-
HA HA HAhahahahahhahahahahh. ________
Recommended For Your Pleasure