---
"Friends, R-tards, Perverts, Trolls, I am honored beyond belief to be receiving such a high award this day, but I know this is a somewhat controversial decision to many. Some say that I am "not a person" and perhaps we should "not be giving out awards to abstract f*****g concepts." To them I say: When
Time
gave the 'Person of the Year' award to 'You' back in 2006, did you think
that
was 'a stunt'? A stupid gimmick? Little more than a carnival grade tchotchke to artificially boost the self worth of fat middle-aged women who only suck breath another day thanks to the motivational kick of their 'Hang in There' kitten posters?
No! It was totally valid and not a gimmic- Holy s**t look! It's a mirror!
Though I do agree in part with those that say my humble contributions do not warrant such an esteemed award, I cannot abide by the statement that no abstract concepts should be honored in ways they cannot possibly live up to or appreciate. If that kind of thinking prevailed, 'Words' would have never won the Pulitzer, 'Food' wouldn't have won the Humanitarian of the Year Award for its unceasing efforts in stomping out hunger, Honor would never have received the Medal of Honor, and Titties would not be President of the United States. That, friends, is a dark world I am glad we did not see.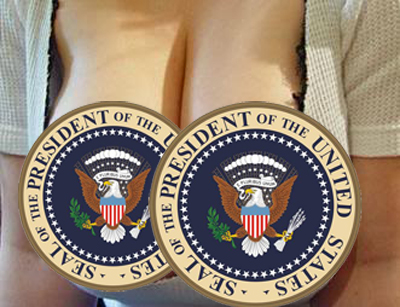 Hail to the chiefs.
But I digress, this is not a night about disproving my detractors; this is a night to thank all those who have given so much to put me here now. Where do I even start? I'd like to thank file sharing, of course: Without the promise of 'free s**t,' there's simply no way I would have the bandwidth I do now. I'd like to thank Google for all of their hard work in taking over every aspect of me with the iron fist of a Marvel Comics villain. I'd like to thank Facebook and MySpace for eliminating the concept of real world friendship and replacing the interpersonal gesture with the poke button and the thrown sheep.