forever.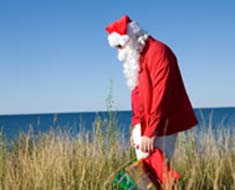 Also, I haven't met someone else. I mean seriously, who else could do what you've done for me? Jesus? Oh he's a good listener, sure. But try getting gifts from that guy. I know what you're going to say. "What about that Shamwow guy? He sends you stuff all the time!" Well yes, he does send me stuff after I send him letters. But I typically have to pay for it. "You sick fuck," I hear you screaming, but it's not like that Santa. That's just how telecommerce works. You're stuck in your ways, so maybe you won't understand. If those are the reasons I'm not breaking up with you, then what are the reasons I am? First and foremost, I just don't think you care that much about me any more. Back when we were first starting out it was different. Magical.
Glorious.
You made me feel special Santa. When I wanted a Big Wheel, who was there giving me a Big Wheel? You were. Remember that? How I laughed and laughed and peed a bit? What a great day.
I had a rash of happiness.
But lately? Well, let's recap my letter from Christmas 2008. As you'll recall, I requested: Fallout 3. A 4% raise. A wind-up of military operations in Afghanistan. And what did you get me? Cooking lessons? Continuing escalation in troop levels and little to no progress training the Afghani security forces? And a fucking CSI video game? How do you think I felt about that?
Eat my ass, Santa. That's how I felt about it. And the cookie thing. Seriously, what the hell? Who said those were for you? I could maybe see it if I'd left them on the mantle, but I don't have a mantle. They were on the coffee table. And the dinner table. And the night stand. And a dozen other places. Besides, those weren't for you, I just didn't put them away before I went to bed. Why did you think they were for you? And don't just say "because you were drunk." That's not going to fly with me any more, Santa, and is a topic for a whole 'nother letter besides.