The best way to make an instant connection with someone is bonding over your shared belief in a massive conspiracy. Since we don't have any "who really killed JFK" backpacks, this fake moon landing carry-all pouch will have to do. You'll talk with your new buddies for hours about how the flag shouldn't be able to blow in the wind and how the lunar module should have left a crater upon impact. If that doesn't get them immediately hooked, point out that there's clearly a moon in the sky ... above the moon depicted in the scene. You'll have made a friend for life. Though you'll never know their real name, because you cannot be trusted.
Indiana Jones Mugshot Mug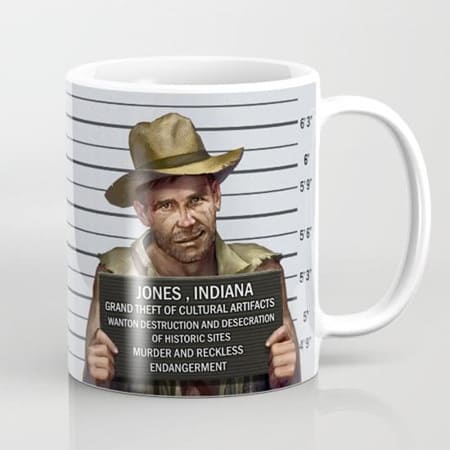 There is nobody cooler, in social settings or otherwise, than Indiana Jones. The fact that he's probably broken the law a few times shouldn't deter you from channeling your inner Indy. In fact, an Indiana Jones mugshot should actually enhance it. Start your morning with a cup o' joe, and remind yourself that if Indiana Jones can flee giant boulders and poisonous darts without losing his head, then surely you can handle a work meeting with Bob from the tech department.
Just don't fill the mug with snakes. Jonesy hates that.
Fire From The Future