Get To Know The Great White Satan
pamphlets. We've got an image to maintain, people, and doing so has graver consequences than ever before. The frosting shot doesn't just depress the Ugandans, it pisses off people bent on our destruction. People who were just kind of considering a career in suicide bombing, saw a photograph of a bunch of college co-eds taking frosting shots at their local cakery, and said "f**k it. Strap on the dynamite."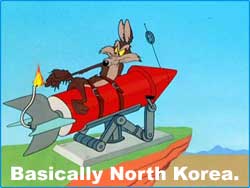 They use dynamite, right? I get most of my explosives knowledge from old Warner Bros. cartoons. For all our sakes, boycott the frosting shot. The good news is, with saturated fat in the clear, you're free to go home and squeeze a tube directly into your mouth. Just draw the curtains first. And while we're at it, there are a few other affronts to decency we should probably stop eating as well. But hey. I'm not here to lecture anyone. Tell you what, we'll make it a game. I'll provide a fictional but fitting origin story, and you try and guess what American eat-trocity I've got in mind. Ready?
1969 may have been the year of the moon landing, Woodstock, and the famed Beatles rooftop concert, but few know it was also the year of the first filmed double penetration. The tricky maneuver went off without a hitch on the basement set of Easy Rider 2: Ridin' Bareback, and upon its successful completion, a young fluffer and amateur baker named Sheryl Spangler remarked "my God, I've got it!" Then after spending the day blowing men in order to keep them erect for filming, she returned home to her kitchen and made cookie history.
The disgrace in question? The Double Stuff Oreo.