all of those things
. All of those things were in the note, which may or may not have been delivered via crossbow bolt shot into a telephone pole outside police headquarters.
POINT 3: THAT. ALL THAT STUFF I JUST SAID.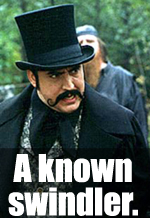 But who was this man, Blanning? According to friends, he was "a wild ladies' man," "
a known swindler,
" and the disgruntled head of a mining company that had seen its revenue dwindle as Aspen became more of a resort town. Imagine him, sitting in his lair, becoming more and more bitter as he watches flocks of tourists wander around Aspen on his series of town-wide hidden surveillance cameras. Is it any wonder he turned on the people who drove him to poverty? To unemployment? To
swindling
? They took everything from him, and he was about to take something back.
POINT 4: HE HAD THE EXACT MOTIVES OF A SCOOBY DOO VILLAIN.
According to police, Blanning shot himself to death soon after his plot was foiled. Thus, the denizens of Aspen are safe once again, secure in the knowledge that a troubled man will trouble them no longer. Or is that just what he
wants
us to think?
POINT 5: THAT IS JUST WHAT HE WANTS US TO THINK!
According to my own sources, the "body" police found in Blanning's cabin was so mangled it is nearly impossible to determine its true identity. My guess: a loyal henchman, sacrificing his life so Blanning could make his escape. This theory is corroborated by a mysterious set of tracks leading to the stream by Blanning's house and the absence of his favorite canoe.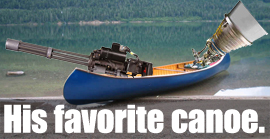 All this, only a week after