When translating this joke, they couldn't just recycle the joke names because they still rhymed with English anatomical terms. The challenge, therefore, was to take a joke built specifically for the English language and shoehorn German names and German anatomy into it. Their solution was, by the way, was to rhyme Uschi, a shortened version of "Ursula," with muschi, a slang term for "vagina." It was joke-making by way of tearfully paging through a dictionary, trying to save your job.
It wasn't just the jokes either, it was how those jokes were delivered -- "Hello Newman," "master of your domain," "no soup for you," "yadda yadda yadda." On their own, they're all very boring phrases. Add in the loathful cadence of Jerry, the nod-and-a-wink delivery of George, the sharp tack of Soup Nazi, and the blitheness of Elaine, however, and they're precious sitcom treasures. German, meanwhile, is many things, and succinctness and measured delivery don't rate amongst them.
And then, of course, there were the Nazi jokes. The translators were constantly warned about offending viewers by reminding them what terrible people their grandparents had been, leading to lines about concentration camps and Schindler's List getting chopped as well as, holy shit, an entire episode about George being mistaken for a Neo-Nazi.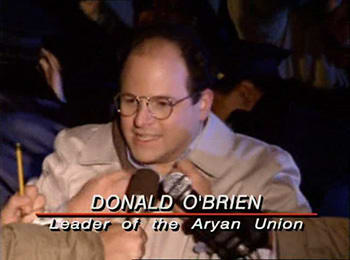 Sony Pictures TelevisionHe then gets punched in the face and the early internet collapses under the strain of innumerable thinkpieces.
Some jokes did make the cut, however. The skit where Jerry discusses formal and casual heil salutes had to stay because passing it off as a new form of waving wouldn't have fooled anyone. Soup Nazi only just made it through. Soup Nazi! One of the show's most famous moments nearly wound up on the cutting room floor. What, did they also think about adding a car chase into "The Chinese Restaurant"? Replacing all of the euphemisms in "The Contest" with the characters straight-up saying "I have not masturbated yet?"
I'm seriously asking, because I'll be damned if I'm going to risk prison time pirating this bullshit.