That's right! The models featured in American Apparel ads, according to text on the models section of their website, are primarily workers at the American Apparel factory! What kind of magical place is this where everyone is half-naked, attractive, and willing to be photographed with a single spotlight on grainy film a la' 1970's snuff films? What powerhouse of masculinity put this thing together?
The answers are Los Angeles, home of Pink's hot dog stand and other sexually suggestive products, and Dov Charney, AKA this guy: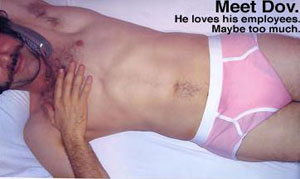 Gotta love the 70's 'stache. Explains a lot, primarily this article accusing him of rampant sexual harassment and fraternization with his employees. But despite controversy and scandal, Mr. Charney is standing strong, refusing to back down from his hyper-sexualized advertising style. In fact, perusing the AA website one can unearth unpublished gems like these ones:
And of course this lovely ensemble: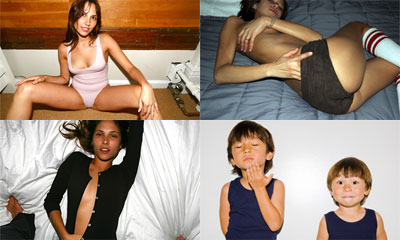 Mmm, yeah, hot. God I'd love to fuck me some of—ARE THOSE LITTLE KIDS?! STOP IT DOV CHARNEY! STOP IT RIGHT NOW!
To find out way more than you'd ever care to know about the sleazemonger Dov Charney and his filthy, filthy business, check out this exhaustive knowmore.org business profile of AA. Now if you'll excuse me, I've got some adult education classes at the learning annex to attend.