would
have been better," Wank agreed, at last finding the door and stepping into the darkened hallway.
Rocks: Nature's locksmith.
It took an hour and a half to navigate the roughly 100-feet between the science lab and the cafeteria, including 15 minutes spent walking in circles until Tony and Wank simultaneously realized that they were both following the other; 30 minutes of backtracking to find the bathrooms before simply urinating through the slots of Jenny Spece's locker (it was unanimously decided on as retribution for her terrible handjob techniques; it's like stroking a beloved pet,
Jenny
, not starting a fucking lawnmower); and a full 45 minutes of rapt discussion as to who was the best Transformer, and why. When they finally remembered why they'd come, they quickly located the double-doors to the cafeteria. Wank flipped on the lights and looked for the fryer while Tony found the freezer. "Wank," Tony said, his jaw gone slack, his eyes losing focus, "there are no words for this. I must compose a symphony." It was the day after delivery. The freezer was stocked with ten 30-pound bags of crinkle-cut french fries.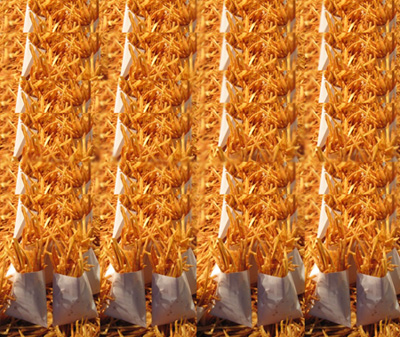 Three hundred pounds of pre-sliced potato mana; the starchy ambrosia; yellow gold.
"I'm going to make all of them," Wank whispered in awe. He rushed over and began alternately praying to, swearing at and punching the fryer. After what seemed like a frankly unnecessary flying elbow, he finally managed to hit the "ON" button. The machine kicked to life. "Dude, just use the manual," Tony offered the booklet helpfully. Wank promptly seized it and dropped it into the deep fryer, "Records are for the weak of mind and demented! We are young and clever; we will not suffer instructions!" "I cannot conceive of a situation in which losing the instructions for an intensely complicated and dangerous piece of machinery has ever ended well." "Well clearly it's working: They have become deep fried and delicious. Now you may dine on your precious instructions." Tony could not shake an ominous feeling of foreshadowing, but he ate the manual anyway because he was extremely high and that is just what extremely high people do.
"This is the best fucking report I have ever eaten."
*** "We are clearly breaking some sort of record for net French fry profits here, dude," Tony had grown paranoid of grease splatter somewhere around the hundredth pound he'd fried, wrapped himself in all the aprons in the kitchen and donned a spare football helmet. "You look like an ass," Wank observed, horking down French fries more out of determination than desire at this point. "Safety first." "I'm safe," Wank protested. "Safe? You? I think the safest thing to do would have been
not
to shatter the auto-shutoff switch with a heel kick." "Were you satisfied with eight pounds?
Eight fucking worthless pounds?
Because that's what the machine said. The machine said 'stop at eight, Wank' and I was all 'we proceed, machine, gather your nerve!' and the machine was all 'I'm scared' and I was all 'I'll hold you, machine' and she was all 'you're so big and strong' and I was all 'take your top off, Jenny' and she totally did."