This is Baltimore. If you've never been, don't worry - you'll go there one day to pay for your sins. "This is Washington," rasped a voice behind me. I spun to see the haggard, wrecked form of a man dressed head to toe in soiled rags. His shoulders were stooped, his posture was broken, also his head kind of looked like an undercooked ham and something about his facial expression made you just know, instantly, that he was currently impotent, and had always, always been so. "Glenn Beck," he introduced himself, offering me his hand to shake.
Seriously, that man has a terminal case of Ham Head.
"What... what happened here?" I asked, gesturing at the wreckage around us. "Health care reform," he spat. Literally. Just all over me. There was clearly something wrong with his mouth. "Forgive me. It's the extra saliva glands they implanted back in '13," he stepped to the side to reveal a dim, narrow opening between the buildings leading downward into the earth below. He shuffled through it, and I followed him into the claustrophobic darkness as we spoke. "Who did?" He laughed, his voice thick with sorrow and resentment. You could actually hear him choke back the tears. He clearly had some practice at it.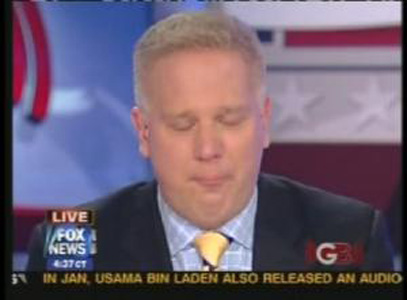 I'm assuming he cries pineapple glaze.
"The democrats! Who else!?
You
know perfectly well what they did to us. After they passed the health care reform bill, they started handing out medical procedures left and right - and that was fine! Who could argue with making health care more accessible to the poor and impoverished? But then, just like we pundits had always feared, they went completely mad: They couldn't stop, even when everybody was perfectly healthy. 'We're good,' said America, 'thank you very much, now let's use the rest of this money to get everybody jobs!' But no! 'Health care,' the democrats screamed, frothing at the mouth with madness in their eyes, 'more health care!' Soon elective procedures were made mandatory: Boob jobs were forced on even the most naturally busty of women, chiseled jawlines were installed by roving surgery units, nosejob kiosks cropped up on every corner like streetlights, unmanned aerial drones armed with high powered lasers performed corrective eye surgery from the skies, literally raining down vision on the helpless masses below." "That's... terrible?" I asked him. He spun on his heel and shoved me up against the side of the cave wall. "You