Mouse Balls:
If you were on the Internet back in the days when ASCII graphics were cutting edge, you probably saw this fake IBM "mouse balls" memo in your email inbox. To this very day, testicle humor remains the pinnacle of human achievement on the Internet.
Hampster Dance:
Audio recordings were mastered over 60 years ago by Vikings, yet to this day, very few sites on the Internet have sound or audio content of any kind. And the reason is this fucking site.
Bert is Evil:
One of the first photoshopped gag sites, it taught us some interesting facts about that Sesame Street mainstay, Bert. Hint: He doesn't come off very well.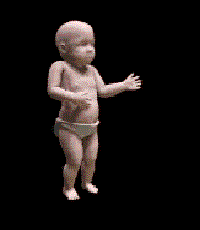 That Dancing Baby:
An early example of 3D graphics, and an effective advertising spokesperson for the vasectomy industry.
Mahir:
In 1999, Mahir wanted to have sex with you, and made a webpage about it. At the time this was revolutionary, and as it occurred at the height of the Internet bubble, I believe the site was eventually purchased by Yahoo for $5bn.
All your Base Are Belong To Us:
In Japan they don't write English very well, mainly because no-one there reads it. This unlikely confluence of events caused one of the most irritating trends to sweep the Internet.
YTMND:
This stands for "You're The Man Now Dawg," which you Cubans probably won't recognize as one of the most tin-eared pieces of dialog to ever be written, and the nadir of Sean Connery's career. This site soon spawned a host of similarly themed pages - including