OK, what in the actual fuck is going on? Why are there a bunch of rock-encrusted things vomiting their guts out and leaking from various orifices in the middle of a square?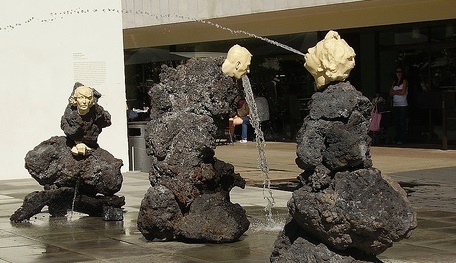 Flickr
"Arglebargle! Splort!"
Also, don't think I can't see you, statue on the left. You're clearly peeing.
The true beauty and terror of The Big Giving is that, much like the equally creepy EYE and Maman, it's a mobile exhibition. It was in London for but a while. Technically, this means that, should your local city council be wealthy and evil enough, this thing could turn up pretty much anywhere in your area too. Yes, even behind your bathroom window. Especially behind your bathroom window.
Hey, speaking of creepy art that can suddenly appear in your neighborhood ...