I'm not complaining -- just really, really confused about why Hollywood simultaneously became nostalgic for this oddly specific era of comedy. It's like how in 2002 we were flooded with goofball spy films like Austin Powers, Spy Kids, and iSpy. Remember how weird that was?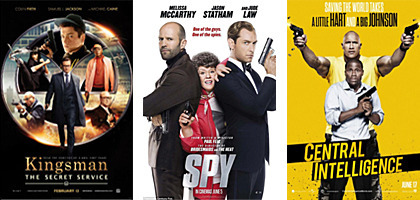 20th Century Fox, Warner Bros.
See? Wait ...
Oh right. You don't have to remember because that's also happening again. We're totally just doing early 2000s comedy again, you guys -- down to sequels to My Big Fat Greek Wedding and Bad Santa.
LA Times, Cinema Blend
And those details are "We're not kidding, Bad Santa 2 is happening."
Again, save for maybe that pointless Cabin Fever remake, I don't hate the prospect of reliving any of these films ... but it's also not hard to cynically think that they are less about continuing the rich story of Zoolander and more about brand recognition. On the bright side, perhaps we'll get that Kung Pow sequel I know everyone is begging for. Can you imagine how much nuts that would be?
But this isn't the only era we're about to get flooded with baffling reminiscence for ...