Monday Law and Order: Murder Science
Law and Order: Murder Science
will be the latest installment of the weary
Law and Order
franchise, which has been more or less entertaining viewers since it originated in 1948 as
Betty Crocker Detective Theater
on NBC radio. The "Murder Science" moniker indicates that NBC has finally cottoned on to the popularity of forensic investigation programs, roughly 10 years after they became cool. With the minimal lead time,
L&O:MS
will have to rely on creative production techniques to get episodes ready by mid February. Combining a scripted drama with the cheap economics of a reality show, it appears NBC is going to be offering reality show contestants an opportunity to star briefly in the show, provided they're willing to get murdered on air. Will savagely butchering frosted tip cretins with poor singing voices lead to ratings success? My prediction is "A thousand times, yes." __________
Tuesday Who Wants to Write a Television Show?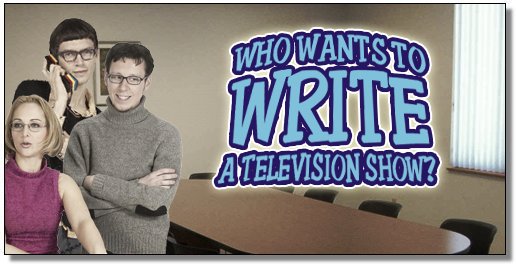 A group of 12 hungry (metaphorically) and six hungry (literally) young writers are offered a chance of a lifetime: to write original episodes of an hour long drama which will be produced and aired on national TV. Divided into two teams, the contestants will compete in weekly challenges related to the craft, such as caffeine consumption and concealing plagiarism. The winning team will have their script aired the following night; the losing team will vote a single member off to be a guest star on
Law and Order: Murder Science.
__________