It's just like when someone finally told me what they really thought of my guitar playing.
The Horrifying Truth:
Whatever your worldview, it's wrong. Your place in the universe is infinitely less important than your tiny child brain can possibly grasp. The Powers That Be (aka your parents) are hiding a whole lot of terrifying crap about the real world that would pop your brain like a festering boil if you found out. So until you're mentally capable of handling the world's filth, it's mom and dad's job to delude you into thinking you're special and important. You are Buzz Lightyear, and your job is to be awesome and loved.
Of course, adults don't do this to be manipulative butt-asses. They do it because it takes an immense amount of confidence and self-worth to handle the world as it actually is. Had Buzz entered the world thinking, "I am a faceless chunk of worthless plastic," he wouldn't have even tried to be anything more. He simply would have resigned himself to the toy box while the world went to shit around him. And that, kids, is the first step to a hardcore meth addiction.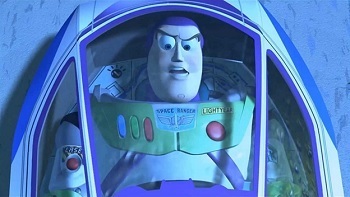 "Mommy, why is that other Buzz Lightyear really thin and covered in tattoos?"
Don't worry, though; one day you too will take a fall, lose an arm, and see the world for what it really is: a preteen boy, laughing maniacally and exploding your friends with firecrackers while he makes you watch. Speaking of which ...