a Russian ex-soldier was arrested
for robbing isolated farms while clad entirely in black ninja-gear and brandishing a sword.
What They Did Right:
When he was eventually arrested, they found him with "a powerful bow in one hand and a knife strapped to his leg."
What They Did Wrong:
So what eventually thwarted the Russian ex-soldier turned ninja bandit? Was it a SWAT team? A rival gang of ninja assassins with superior, possibly wind-based superpowers? Or just Captain America? Nope: A senior citizen who fell down the stairs. The Russian ninja smashed through the door of a farmhouse one night only to find a "pensioner" waiting for him, armed with a rifle...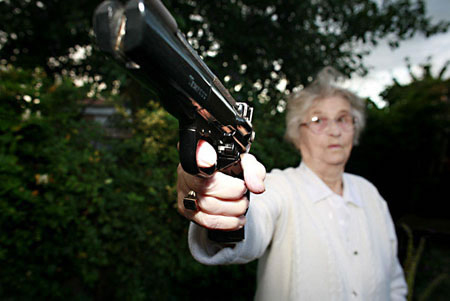 Geriatrics: Bane of the Ninja!
…who promptly tripped and fell down the stairs. Because he was old and that's the kind of thing that old people do. The fall accidentally set off his firearm, and Comrade Rising Phoenix immediately did the only thing a Warrior of the Night could do when facing an incapacitated senior citizen: He ran away, hopped on his bicycle and fled to the abandoned barn he was living in. Jesus Christ, dude. You had it! You had the whole ninja persona
nailed down
… right up until you started running away from the elderly, that whole "living in a barn" thing and, of course, the bicycle. Though it is undoubtedly stealthy, something about the bicycle just does not say "vicious shadow warrior" so much as it does "I care about the Earth" or at least "I have a DUI."