be there
!" Sieg Heil, that's your Hitler reference, which you still can't whip out without some backlash. That's impressive staying power. I mean five, six decades on and he's still the world's number one symbol of evil. Imagine that. He's like the Mickey Mouse of evil. Except Goofy is Goebbels and Minnie is on fire in a ditch. It's more than Manson can say, that slacker. He even tried to ride on Hitler's coattails with that swastika on the forehead; come of it Charlie, we all know you ain't the guy. So Hitler's out…probably not coming back into vogue any time soon, unless it's ironically or because brown stirrup pants and red armbands make it big. Speaking of ironic: baby rape. Again, not a bad sounding phrase. Almost sounds like "baby grape," which is actually kind of pleasant. Even switching the words isn't as bad: "rape, baby." I mean, still inappropriate, but it sure sounds a lot cooler.
But baby rape is usually deployed ironically nowadays. Really the whole pedophilia domain. Many people like pulling it out as the "shock card" in forums. Baby eating, puppy killing, they're all good. And of course you've got rape, which is right up there with AIDS in terms of shit you're not supposed to joke about. So every smart aleck online simultaneously thought: "Jesus, you know what's hilarious? The thought of forcing myself, sexually, on a baby." Of course, that thought has to be translated into a wry joke first. Just post "I'd like to force myself, sexually, on a baby" and you're going to feel the full force of the Internet shouting you down and may even receive a friendly visit from some men who work for the government and would like to examine your hard drive. After all, everyone likes fucking with people and feeling good about it at the same time, and there's not a lot more satisfying that fucking a baby rapist. Or maybe there is, but only the baby rapist and the ancient Greeks know for sure.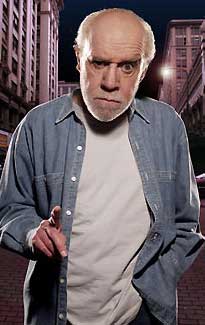 As for Scientology, they're kind of in the Bill Cosby class of words, insofar as just mentioning them isn't a killer, but do it enough and…they'll be watching. And you can even get away with it, as long as you only frequent forums that their lawyers don't bother checking out. I doubt many Scientologist figureheads are lurking in 4Chan threads; the Rickrolls alone would make it a futile effort. But mention them in less-than-glowing terms on Youtube or any other major site, and you're in for something that makes Internet flame wars look tame: a cease-and-desist letter. Oooh. Post enough passionate diatribes against that particular cult and next thing you know you've lost your social security number, your last eight tax returns are being audited, and way more people than usual stop you on the street to ask "what your crimes are." Now I know what you're saying: what's wrong with "meh?" It sounds like the sound made by an adorable imaginary animal. But no. The sound of meh is the sound of the person who thinks so little of your input, they can't be bothered to type "gayyyy." The person too lazy to articulate their thoughts beyond a monosyllabic interjection, and yet so confident in their opinion that they will casually cast judgment on your entire being. Don't bore me, they warn. And when faced with that kind of ultimatum, there's really only one answer: Well, seven actually.