And so we did. For a short period a few weeks ago, everyone loved Ken Bone. It was inevitable that this costume would show up within days: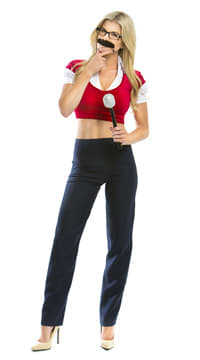 Yandy.com
"My question is: Can anything be made sexy, and if so, is it right to do so?"
Later we found out he wasn't entirely the shining hero we'd hoped and dreamed. The backlash was probably a little overblown, because that's just our way, and now no one likes him much any more. Life's weird. Best of luck, Ken.
But that brings us back to the costume -- in either its sexy or voluminous regular red-sweatered forms. In particular ...
Who Would Wear This?
Someone who doesn't know we don't like Ken Bone any more, probably. Also, someone with a red sweater they never get to use.
nixki/iStockPhoto
Outside of Christmas or a murder, your social options are kind of limited for a garment like this.