That's why it was so easy for people to swallow a "study" claiming that IE users have lower IQs than users of other browsers. The hoaxer admitted he was just trying to make a point about IE6 and pointed out eight obvious reasons why people should have been able to tell it was fake.
But nobody was looking because we all just know that IE users are dumb, so if we see a professional looking website with a "study" on it proving what we "know," why dig deeper?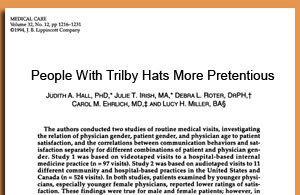 Sure, that looks solid.
Similarly, Keith Olbermann once went on air to report that parents lose 12 to 20 IQ points after having children, according to a study reported on a local fake news website (Indiana's version of The Onion). That's clearly an anti-Olbermann site there, but it's mentioned elsewhere, along with the fact he apologized on-air afterward. But childless people everywhere were probably saying, "Of course, that explains why my friends go goofy talking to their babies and buying them stupid baby products." And parents themselves were probably saying, "Well, I sure felt like a zombie for that first year, I guess that makes sense."
Getty

"At the time, I thought it was because I was tired as hell, but sure, maybe I just became dumber permanently."