It's kind of like how every modern apocalyptic hellscape involves famine, overpopulation, or the good ol' unsurvivable scorch. Even Roland Emmerich went from moonsaulting the world with dinosaurs and aliens to realizing that the world was plenty capable of KO'ing itself.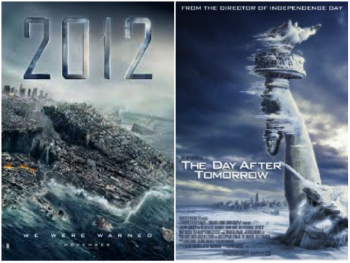 Sony Pictures, 20th Century Fox
Further evidence of the planet's self-loathing: It produced Roland Emmerich.
I'm not the only person who noticed this: The Guardian recently pointed out that every modern dystopian story more or less originates in climate change. Elysium, Snowpiercer, Interstellar, and Maze Runner are all scenarios in which the spark of destitution is weather-related. In almost all of these cases, humanity is first forced to live amongst its own fumes in a bunkered society before forming an oppression-tastic government as a side effect -- much like how robots and war created the fictional dystopias of the pre-2000s. "A bunch of dust" is the new Skynet.
The Hunger Games, specifically, takes place in the nation of Panem ... which, in case you never noticed, is merely the US with a shitload more beaches.
Maria Rizzoni
Canada remains unchanged, according to the text in this map.