There's a scene I love in Alien: Resurrection -- which I know sounds like a gibberish sentence, because no one liked Alien: Resurrection -- in which the character Christie makes an impossible gunshot that ricochets a bullet off, like, three walls before it hits its target dead-on. I liked that scene for the same reason I like watching pool sharks: because I have a boner for geometry, I guess. Or maybe things that ricochet amuse me because I like bouncing. I don't know. In any event, when you start bouncing bullets around, you have my attention.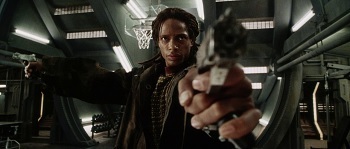 20th Century Fox
Replace Winona Ryder with bullets, the alien baby with bullets, and all the dialogue with bullets, and this movie would deserve every Oscar.
Likely, the concept of ricochet is of great interest to 74-year-old Carol Johnson now as well, because she fell victim to one even more ludicrous than the one in Alien. Follow this train of madness and struggle to accept how it apparently actually happened. Carol's son-in-law was outside the house with his 9mm pistol. As is the wont of most people with a 9mm on them, Larry McElroy was in the mood to shoot an armadillo. Or maybe the armadillo just appeared and pissed him off. The context is irrelevant. What is relevant is that Larry shot the armadillo and it died. And yet, somehow, the bullet bounced off the armadillo, hit a fence, proceeded through the door of Johnson's nearby mobile home, into her recliner, and then into her back. The only thing more amazing would have been if it stopped for a latte at Starbucks on the way.
Viktor Kosev/Hemera/Getty Images
"I want an equal amount of shots in my cup and my clip."