The explanation? Quiet was burned almost to death. Great start! She only survived thanks to parasites making her photosynthesize and breathe through her skin. She must remain nearly naked at all times, or she'll suffocate. And if she ever speaks English, the parasites will start multiplying to kill her and every other English speaker in the world.
Why That's Bullshit:
She can totally wear clothes.
Konami
"What, this old thing?"
You can research the "Gray XOF" suit, but it's expensive, occurs late in the game, and requires that you watch Quiet being tortured in a bikini. You need "Quiet's Examination Report," which comes from a cutscene in which she's black-bagged, manacled, heavily electrocuted, and chemically burned in her boobkerchief.
Konami
Kojima brings his perfect woman clothes-shopping
This costume isn't a cheat or DLC; it's researched the same way you get new guns and tools. You can absolutely clothe Quiet, but Kojima wanted to make sure you took a good long look at her jiggling in agony first.
It's more kinds of bullshit than an organic fertilizer research station. If she has to expose skin, why doesn't she know about sports bras or swimsuits? Why don't we have any burly dudes infected by the parasites marching into combat in posing pouches? Because you can equip Big Boss, the main character, with the same parasites to gain special abilities. Let's see how that looks.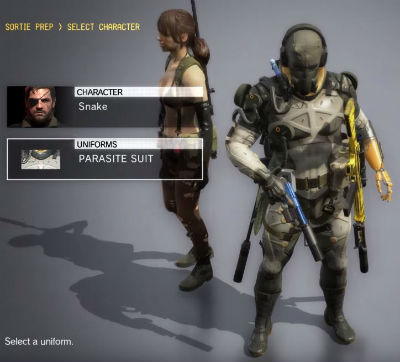 Konami
That doesn't look like a mankini.