On multiple occasions you have to sneak onto Blume property. You can technically use stealth, but because there are 18 guards per square foot you usually end up killing them all instead. But you're not gunning down corrupt executives -- you're shooting blue-collar schmucks who are just trying to earn a paycheck. It's doubtful they know what their employers are up to. It's like trying to protest BP's environmental policies by blowing up the cashiers at gas stations.
Via Gamespot
"This will teach you to have a family in today's troubled economy!"
The game tries to keep you on the high road with a morality system that represents public opinion, but that just makes it even more laughable. Not only do Chicagoans give precisely jack fuck if you gun down a softball game's worth of security guards in broad daylight, but you have to murder an entire police station before they start getting judgmental. Hell, murder a few bystanders too if you want -- you'll get that reputation back by stopping a mugging. It's like how everyone forgave George Zimmerman after he helped out at a traffic accident.
So you and Aiden can kill a couple dozen guys before popping over to your nephew's birthday party, where you're portrayed as the cool uncle instead of someone who should be kept the fuck away from children. It's like he has a split personality -- one makes sense in the serious story, while the other only fits into the absurd world of games. That's why they can claim Aiden abhors crime, yet have most of your money come from hacking into strangers' bank accounts.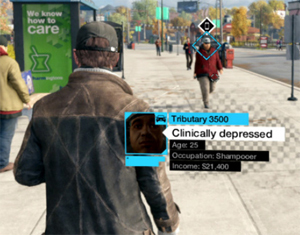 Via Frakkingnerds.com
"Well, if I was a depressed shampooer I'd probably spend my spare income on alcohol, so I'm really doing him a favor!"
Watch Dogs ends by giving you the decision to kill or spare a bad guy. They play it as the game's climactic moral moment, as if you haven't spent the past 20 hours killing hundreds of far lesser criminals. It's like if The Expendables ended with everyone hugging it out. The only real moral dilemma is whether or not you were accidentally the bad guy all along.