writer Seth Forman
and the obstetrician who dropped him. My replies are courtesy of not being an overpanicked schmuck. Try them out on Great-Aunt Prejudice, or the anti-gay senator fellating you in an airport bathroom.
---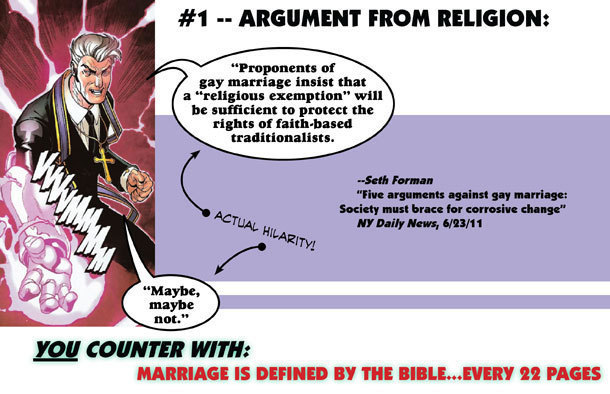 Marvel wants you to know it doesn't discriminate.
Translated into sanity:"The unpopularity of my beliefs shakes my faith, therefore I am oppressed. Soon I will be forced to perform marriages against my will."
Look, there's no debating that the holy book of the majority should dictate all the secular laws for everyone else. That's just common sense until your side isn't winning. The Bible states in Genesis that marriage is between a man and his mutated rib, which is as painful as it sounds, but at least the Constitution allows it.
In time, God expands this beautiful concept into a union between a man, his swinging wife, and her abused servant. Under His divine plan, marriage blossoms into a sacred contract between a rich rapist and his victim, a king and 700 fine, foxy ladies, a man and his brother's widow, and occasionally a man and his own daughters when the wine is alright. Somewhere in there, you are also allowed to marry a pie if the pie is willing to convert.
Hendrik Goltzius, you philistine

There's a Lot wrong with this picture
Those of us raised Catholic were even taught the perfect marriage is a man, a woman he never has sex with, and God sneaking in after the engagement to cuckold him, because honey, a good man will forgive you, but a powerful dude is a fleeting opportunity. It's a lot like my ex-girlfriend, now that I think about it. Women: am I right, fellas? Can't live with 'em , can't marry a man in 90% of the country.
Anyway, the point of the Bible is that even though God wants gay people to know what a mistake He made in them, Jesus just as explicitly wipes out the old laws. After the New Testament, Christians are free -- nay,