"Ghost in a bed sheet, really? Try
conjuring
new material, you ethereal hack."
And here it is grabbing a girl by her hair and pulling her across the room like a troubled child's teddy bear: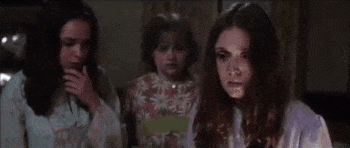 New Line Cinema
New Line Cinema
"Can you drag her by the kitchen? I spilled some wine earlier."
She's only released when one of the adults takes a pair of scissors to her hair, meaning that this is indeed a physical grasp. I keep stressing that the phantom physically exists because when you think about it, that's fucking hilarious.
Imagine for a second these same scenes, only you could see the demon. Imagine the hellish creature sauntering up to a crucifix and knocking it down like a cat. Really picture this otherworldly entity slowly grabbing that girl's hair and running as fast as it can around the room. Just having a whale of a time.
This applies to every ghost movie: mentally insert the specter into any shot, happily running around the premises to set up its next big jump scare. And they are having a blast, you guys. Ghosts certainly are scary and vengeful, but they're also bored out of their minds. For every terrifying nightly haunt, there are like 23 other hours when they're presumably sitting around thinking of spooky shit to do. Every horrified mortal face is the highlight of their day.