Which we're guessing smells disturbingly eggy ...
Considering that travel-borne disease and antibiotic resistance is a major problem on just one planet, places like that dank cantina or Jabba's palace are -- at best -- diarrhea farms. And when you think about it: Is this really the kind of place you want to take a harrowing shit?

The (porcelain) throne room.
Jabba's stank-castle doesn't even exclusively cater to humanoids, making the idea of bathrooms and sanitation some sort of twisted riddle. After all, we see many of these creatures eat -- Jabba included -- so it stands to reason that their bodies eject waste. Are they shitting on the floor? Is that pig-man dropping a deuce over the rancor grate when everyone's asleep at night? It's not like they can build one toilet to accommodate every single alien body type in the joint, so where does all the poop go?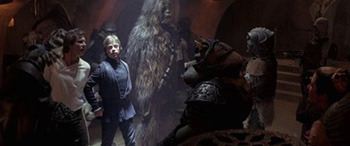 Han's carbonite blindness clears up just in time for him to get pinkeye.
If you're thinking that they must have some kind of futuristic laser waste vaporizer or advanced turd teleportation device, consider that the technologically cutting-edge Death Star had a fucking trash compactor in it: