The (porcelain) throne room.
Jabba's stank-castle doesn't even exclusively cater to humanoids, making the idea of bathrooms and sanitation some sort of twisted riddle. After all, we see many of these creatures eat -- Jabba included -- so it stands to reason that their bodies eject waste. Are they shitting on the floor? Is that pig-man dropping a deuce over the rancor grate when everyone's asleep at night? It's not like they can build one toilet to accommodate every single alien body type in the joint, so where does all the poop go?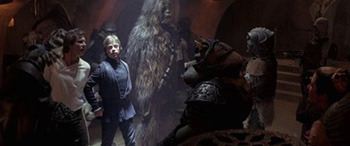 Lucasfilm
Han's carbonite blindness clears up just in time for him to get pinkeye.
If you're thinking that they must have some kind of futuristic laser waste vaporizer or advanced turd teleportation device, consider that the technologically cutting-edge Death Star had a fucking trash compactor in it:
Lucasfilm
If you look closely, you can see Lucas' original
Phantom Menace
idea notebook.
You're looking at the pinnacle of waste management in the Star Wars universe: a big ol' soup of crushed garbage that doubles as a terrarium for a periscoping slug beast.
Lucasfilm
Did they throw that thing away, or does it just live down there?
And since we know that the Star Destroyers eject their waste into space, it's safe to assume the Death Star also does this, considering that we see these chutes and compactors at work. So let's crunch the numbers: Expanded Universe lore puts the population of the Death Star at a little over a million -- but even if it's half that, the average person poops roughly one pound of waste a day, making the amount of feces alone a solid 500,000 pounds slowly trailing behind the Death Star like a comet's tail. Lord help them if they stop moving for a day, creating a Saturn-like ring of orbiting sludge. And, again, this is the most advanced thing ever. Mos Eisley wishes it had a dirty trash compactor that gets inexplicably jammed by small metal objects.
Speaking of which ...