It had never occurred to me that their only response would be to apologize for not making it pretty enough. To the mystery burger craftsman who was roped into creating this oddity: I assure you that you did your best.
It looked like someone had taken every cheese known to man and melted them all into one glorious sandwich. This was the Schrodinger's cat of burgers -- it simultaneously looked delicious and revolting. But when I opened the burger, the superposition collapsed and revealed the true nature of the beast.
Ben Wyman
And as with the cat, I had no desire to eat it.
The first bite had the same effect on the restaurant as Fifty Shades Of Grey had on the country -- excessive amounts of juice leaked everywhere, and it was extremely awkward for outside observers. The sheer number of flavors overloaded my taste buds, leaving me unsure of what I was actually eating. It just tasted like ... taste. It was everything and nothing, the alpha and omega of burgers.
Ben Wyman
I'm probably not going to be the star of a whimsical McDonald's commercials anytime soon.
The sauces slowly beat my taste buds into submission, and a clear vinegar base flavor emerged. Most of the sauces mixed together into an unidentifiable mess, but the lack of solids made the pickles in the tartar sauce stand out. Imagine taking a pickle, covering it in mayo and hot sauce, then having a friend chew it up and spit it into your mouth like a mother bird who hates her baby.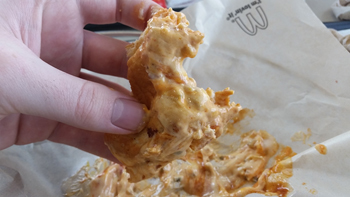 Ben Wyman
This may actually be Grimace's semen.