Yes that's Iggy Pop. And yes, he will be playing the titular role of the Sandman ... a masked murderer who, according to the film's synopsis, uses a "lethally jagged melon spoon" to cut out the eyes of children. The story follows Nathan, a student who, years prior, killed the infamous Sandman to avenge his mother on Christmas Eve ... only to now witness his sinister return. Which I'm guessing looks like this: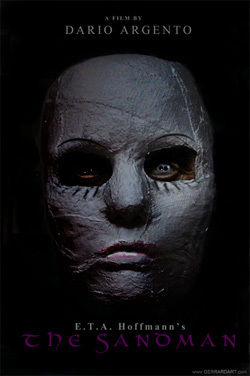 Dario Argento/Indiegogo
"You have my mother's eyes" isn't supposed to be a creepy line ...
If The Sandman is a horror sundae swirling with amazing talent and story, then the Godfather of Punk is the shirtless cherry on top. Only I'm not finished yet, as this analogical dessert is getting slathered with a soundtrack by the band Goblin -- which you horror fans might know as the ones behind Suspiria's iconic music. So it's basically a horror classic in the making starring one of the most iconic punk singers alive, and it only has 5,000 Facebook likes. Meanwhile, the sequel to the Hasbro-produced Ouija movie has two million views on YouTube, you goddamn monsters.