Knowing what I was getting into, and the fact that this is actually the best of the three movies -- a sentence which should make your own asshole twitch -- I was able to finish it off completely on that very first try. Even the part when he has the centipede out on the yard, yelling at the man in the lead to poop into the mouth of the next segment with nothing but sincere desire in his voice. God, this movie sucks.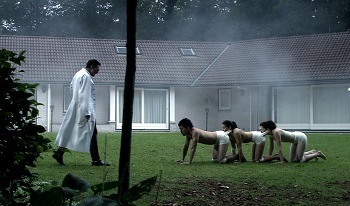 IFC Midnight
The poop through three people accurately represents the journey the plot takes through three films.
The sequel to Human Centipede goes full arthouse -- by which I mean it's black-and-white. This is how director and cinematic boil Tom Six tries to show depth. I've never met Tom Six, and can't say for certain if he's a terrible man. I simply have his work by which to judge him. Much like how I have the work of the Boston Strangler by which to judge him. In the end, I'd like to have tea with neither.
Part Two goes meta on us and introduces a character obsessed with the first film. And to the actor's credit, he's one of the most repulsive humans I've ever seen, so he was well-cast. A point for Tom Six. The only one he'll ever get.
IFC Midnight
If Dr. Frankenstein had given life to a pile of 200 overloaded diapers.
I'm reminded right at the beginning that this is an IFC film. For shame. Also, as the movie begins with one character crying into another's ass, I can't help but think that one would simply die right then, as their nose would get clogged and they'd have no way to breathe. Because this is a dumb idea, you see. Anyway, let's keep going.
Does it make sense to say that if this was any other movie, it might be good? That's kind of obtuse, but it's 100 percent true. The frogman in this movie is really good at being awful. It's almost impressive. That the rest of the movie is awful is not impressive, however. I'll give props for the sense of creepy dread you get when you see the frogman holding a baby and you're not sure what's going to happen, except that it'll probably be nothing good. But then later you have to endure his mother finding his Human Centipede scrapbook, which is precisely what it sounds like: a scrapbook dedicated to the first movie. She literally picks through it and reads out all the stupid buzz lines that they used to market the first movie. "100 percent medically accurate??!?" she sputters. It's like the director can't get through a single scene without giving himself a handjob over his own work. "Mouth to anus?!?" she says. And we all nod, because yes, this is the second goddamn movie and we all know this dumb shit already. So please stop reading quotes from the DVD box.
IFC Midnight
And start reading quotes from the film's Rotten Tomatoes page. Then be ashamed.