I actually willingly saw the first Human Centipede back when it was released, because the stupid idea of it appealed to me. The idea. The dumb idea I thought it was. Like that movie Teeth, about a vagina with teeth in it, or Rubber, about a homicidal tire. I thought this would be like that -- a kind of silly-ass pseudo-horror film. I didn't know it was actually played in a serious manner, thus destroying any charm the story could or should have had. Plus, I think the lead actor, Dieter Laser, may be legitimately insane. Or highly medicated. Either way, I don't want to meet him.
IFC Midnight
He got the part after reading the script and immediately sporting a gigantic boner.
Having to watch the movie a second time was less enlightening than the first run, through. Guy wants to make a human centipede because of an inability for even the screenwriter -- a man who makes Uwe Boll look like a Voltron of Orson Welles, Quentin Tarantino, and Akira Kuroswawa -- to come up with a rational reason. Or even an irrational one. He just wants to sew people together ass-to-mouth to make a new thing. A thing which is three people sewn together, ass-to-mouth. Do you know what I want to make? A fuckin' pizza with chicken wings on it that somehow dispenses beer. No asses involved.
Knowing what I was getting into, and the fact that this is actually the best of the three movies -- a sentence which should make your own asshole twitch -- I was able to finish it off completely on that very first try. Even the part when he has the centipede out on the yard, yelling at the man in the lead to poop into the mouth of the next segment with nothing but sincere desire in his voice. God, this movie sucks.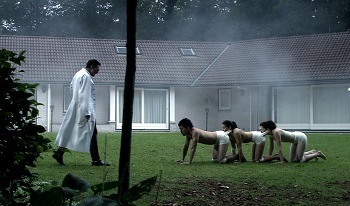 IFC Midnight