Repeat Mistake:
The XFL
The World League folded after the Earth came together and agreed that American football should stay exactly where and exactly what it is. Well, during this time Vince McMahon was developing steroids that were safe to use on kids but didn't make their meat taste like horse. He missed the entire lesson. So in 2001, he developed the XFL. It was just like the NFL, but with everything that X implies. A few weeks later and Vince McMahon was in a race with the Internet to see who could kill money the fastest. To cap the unsuccess of The World League of American Football, the first champions were from London, England. For anyone with national pride, that's like finding out your salsa was made in New York City one week after your grandma dies in a New York City salsa vat.
D
.uh: 4 Adding thongs and a pro-wrestling attitude to something that's already a celebration of high-impact violence... it's like pandering for the sake of it. If we wanted boners and interpersonal drama during football, we would have fucked our wives' sisters at halftime.
U
.nlogic: 4 I was forgiving to the unlogic in these bad football decisions, because it makes a kind of sense to keep adding stuff to a thing until everyone loves it. Like if you were having a beer with your friends and a man came up and said, "Hey, fellas! Would you like some whipped cream for those brewskis!? Best of both worlds, am I right?!" You'd be like, I love whipped cream and I love beer, I want to film myself slamming against this man and others. You know who else would love this?
EVERYBODY.
H
.indsight: 5 Before he lost millions of dollars ruining football with an 11-year-old's idea of awesome, Vince McMahon had already done the same thing with bodybuilding. Man, that guy can even make a greasy, naked, muscled man seem gay.
4. From Commercial To TV Show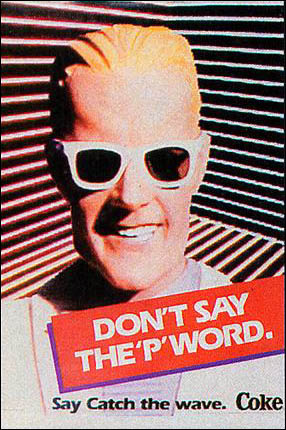 First Mistake:
Max Headroom
Max Headroom was a stuttering head from the future or something, that became popular in America for advertising New Coke, a product that coincidentally failed and then came back several years later to fail again. Someone decided they should make a show about him, but what kind of a show do you make for a wise-cracking corporate shill? That's right, develop a high-concept cyberpunk drama with an anti-establishment theme! It was so mixed-up I think its main sponsors were Black Panther Shoe Polish Remover and George Orwell's Chipotle BBQ 'Tater Skins.