He never made any of the machines that would later be named after him. Goldberg put his degree in engineering from University of California, Berkeley to more appropriate use by getting a job as a newspaper cartoonist. His most famous character was Professor Lucifer Gorgonzola Butts, an inventor of complex contraptions that accomplished simple tasks.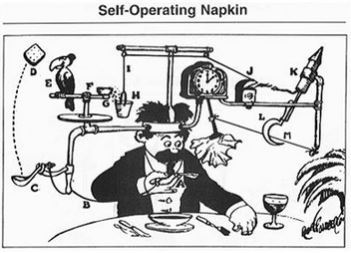 Goldberg himself wasn't an eccentric inventor. The dumb complicated machines he wrote and drew about overshadowed his legacy as a writer and cartoonist -- which is why you probably didn't know that ...
The Forgotten Creation
Rude Goldberg wrote the screenplay for the very first The Three Stooges movie. Well, it wasn't necessarily their movie. The 1930s Soup To Nuts was Goldberg's attempt at getting his playful imagination, crazy inventions and all, on the big screen.