No, because it turns out that the trust in Trump actually comes from a distrust in everything else. Though everybody complains about how dishonest and biased the mainstream media is, it's really Republicans and independents who feel that way the most strongly, according to a Gallup Poll.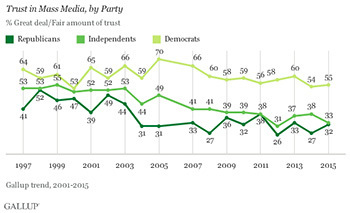 Gallup.com
In their mind, they've already found out who the liars are, and it's not the spray-tanned were-hedgehog. The fact that the Republicans are no longer paying attention to the news makes them a perfect target for someone like Trump, who has a real talent for saying things that, despite not being true, sure are fun to hear. "Build a wall! Yeah! Just like in Ancient China and Game Of Thrones!"
Warner Bros.
And Pacific Rim!
Turns out this is Trump's superpower. Barack Obama's innovative presidential campaign -- which used social media like no candidate before him -- became a nuclear bomb in Trump's case because it allows him to bypass anyone who would fact-check him and say literally whatever he wanted. Because remember, the people who support him don't trust the fact-checkers.
Now, if you think I'm mocking Trump supporters, or gloating about how stupid they are, then just wait ...
*Look at me plugging something that doesn't even make me any money. I'm terrible. Go buy one of my co-workers' books.