We normally look at skepticism as a good thing. Being overly trusting, or "a sucker," tends to cause problems, like falling for pranks and voting despots into power. But what people don't realize is that skepticism, when taken far enough, dips right on over the horizon and comes up on the other side as a big old burning ball of gullibility.
Take Trump supporters. Just going with my Debunk Trump Twitter project,* it seems like Trump's supporters are the least skeptical people ever. Trump lies so frequently and about so many different kinds of things that he comes off like a teenager trying to test the boundaries of inattentive parents. Isn't refusing to do 15 seconds of fact-checking the very definition of gullibility?
Debunk Trump
You literally just google his words to find out that he's wrong.
No, because it turns out that the trust in Trump actually comes from a distrust in everything else. Though everybody complains about how dishonest and biased the mainstream media is, it's really Republicans and independents who feel that way the most strongly, according to a Gallup Poll.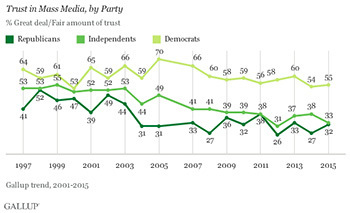 Gallup.com