5 Dumb Things Hollywood Apparently Believes About Scientists
Is there any group more misunderstood by Hollywood than scientists? I mean, yeah. Of course. Tons. That's kind of a silly question. But the point is that movies often get scientists wrong. Not a little wrong, like confusing Joel Kinnaman with Bert from Sesame Street. Movies are wrong about fundamental things like what scientists do, why they do it, and whether they wear lab coats while working on their computers.
If Magic Were Real, Scientists Would Ignore All The Evidence Until They Met An Ironic End At Its Hands
Fantasy movies usually need a scientist to be skeptical about whatever the fantastical premise is. Teens are casting magic spells, people are rising from the dead, or computers have decided they hate us now. But they don't just have a healthy dose of skepticism, they stick to their skeptical guns despite any amount of evidence to the contrary. A dragon breathes fire at them? Swamp gas. Aliens start probing them? Must have eaten something weird. They're the ones screaming, "If we didn't learn it in grad school, it doesn't exist!" as magically levitating zombies tear them limb from limb.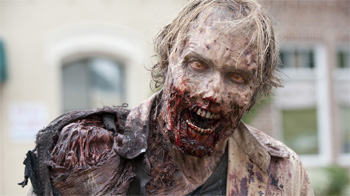 "THESE PEOPLE ARE MAD WITH RABIES AND ECZEMA!"

But science isn't a stuffy old set of rules to be followed dogmatically. In fact, being anti-dogma is science's "thing." Science is a set of methods for determining what's likely to be true based on what's repeatable. If you can reliably predict an outcome, you're doing science, baby. We didn't stop reading tea leaves because they clashed with our new Bunsen burner set, we stopped reading them because they didn't have reproducible effects.

If someone could wave a stick, say some words in pseudo-Latin, and levitate a book from across the room, scientists wouldn't be all, "I refuse to believe the overwhelming evidence that this is very clearly true. Now let's stop talking about it and grab those beakers so we can confirm things we already know."

"Yeah, sure, he can 'talk' to snakes. Fuck off, Dr. Doolittle."

They would be the people most psyched about it. Generally, people don't become scientists because they hope we never discover anything new. They dream of discovering something a millionth as interesting as a stupid spell that waters your plants while you're on vacation. Any scientist worth their salt would kill for the chance to understand this somehow completely undiscovered force. Plus, they could win every single Nobel Prize for the next hundred years.

If magic operates by any set of rules, then it's repeatable and a new branch of science. Dissertations would be written about the exact angle a wand needs to wave in order to make a book talk and Apple would be developing a demon-powered Apple Watch ... You'd still have to get a new adapter for the watch, made of basalt and failed dreams, but it would have 30 percent longer battery life.
Scroll down for the next article