Taxidermy by its nature will always be creepy. But at least in the past, before all this Etsy bullshit happened, it was somewhat dignified, right?
The Historical Awfulness
Nope. The glorious past presents us with this 18th-century taxidermy of a lion, now on display at Mariefred in Sweden: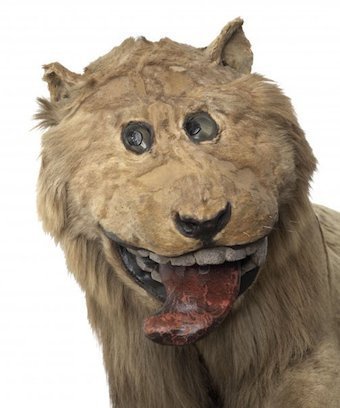 Via The Mary Sue

King Frederick I of Sweden had been given the lion as a gift some time around 1731. He loved it so much, he wanted to stuffed after it died, so he hired a taxidermist, who had only the creature's pelt and bones to work with. People have tried to excuse the guy's leonine failure by pointing out that back then you couldn't just drive to a zoo to check what a living lion looks like. But come on -- lions have been appearing on flags and coats of arms since long before the 18th century: just try to imitate one of those, dude. Hell, he could have just found himself a nice fluffy cat and scaled up. Either would have produced something better than a stoned pedophile dog.