My initial research made the group sound like a closed-door militia, plotting inside a heavily-armed compound. But for $40 a year, anyone can become a member of the Oath Keepers and gain access to their monthly meetings. It's like they're just begging the government to send someone to check things out. Maybe they are. Maybe they'll think it's me. Exciting!
jozef sedmak/iStock/Getty Images
Do they shoot spies on sight? Only one way to find out!
Some Oath Keeper concerns seemed legit: The government has gotten too big, we do have a trillion-dollar deficit, and there is a growing militarization of the police. I can get behind all of that to some extent. What if they were just misunderstood? Full of hope that I wasn't transferring the funds that would lead to me being disappeared by a shady group of extremists, I entered my PayPal information and set off to join the next New York Oath Keepers meeting.
I walked down the long hallway inside the Westside Pistol Range, ready to come face-to-face with the Oath Keepers. Nervous. Sweaty. Apprehensive. I followed the sound of gunfire and clutched a copy of the Constitution so I wouldn't look like an outsider. A man behind the display of pistols directed me to the backroom of the range.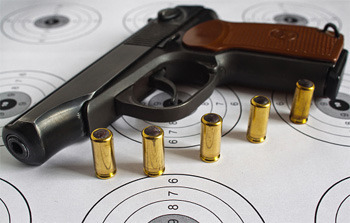 kuzma65/iStock/Getty Images
The front room was too bright and cheerful.
"Is this where the Oath Keeper meeting is?" I asked the early arrivals, who glanced at me with suspicion. The room was filled mostly with middle-aged men sporting mustaches and wearing plaid -- down-to-Earth, working-class guys -- as well as one other new member and two women who looked like Marge Simpson's sisters, Patty and Selma Bouvier.
I took my place under a big "Don't Tread on Me" flag. "How did you hear about the Oath Keepers?" asked the large man at the front of the room, standing near a slogan of his own which read "This Is Not Your Daddy's .45."
"I'm a member," I said, giving my best I-belong-here look.
Hank Leonard
"Card-carrying, yo."