Let's be honest here: One of the scariest things about the United States right now is that we're teetering on the brink of letting Donald Trump run the country. I agree that's a genuinely terrifying prospect that implies a lot of awful things about us as a nation, but on the bright side, at least we didn't just elect Rodrigo Duterte.
If the name doesn't ring a bell: He's the newly crowned president of the Philippines, and his exploits are so insane that, initially, this entire article was just going to be about him. Unfortunately, in the time between when I came up with that plan and when I finally started writing, John Oliver, the host of HBO's Last Week Tonight, talked about Duterte in one of those 90-minute-long monologues that have rightfully made his show so popular.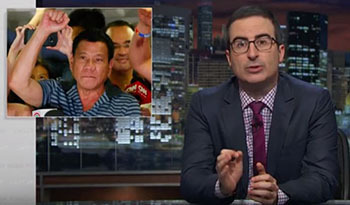 YouTube
Embedding is disabled on the video. Please enjoy this screenshot instead.
So, not wanting to hear your shit about "stealing" ideas (it's called parallel thinking, motherfuckers), I decided to expand on my initial premise a bit. That said, Rodrigo Duterte is wacky enough that he still merits a mention here, even if only to prepare for the possibility that not everyone reading this gets 100 percent of their information from premium cable shows. Let's get to it!
Maybe it's because our hopefully not-soon-to be president shrugged off all those Hitler comparisons like he was Action Bronson blowing off questions about having the same voice as Ghostface Killah ...
YouTube
Everyone gets that reference, right?