#3. The Justice Society of America
The Justice Society was the very first superhero team, and they have the antiquated views on race to prove it. Their gargantuan roster was made up of Dr. Fate, The Spectre, Starman, Sandman, Hawkman, Johnny Thunderbolt, and The Atom! With all those heroic crime fighters on one team, wouldn't it be something if one brave comedy writer could find a panel of every single one of them screaming offensive things?

Dr. Fate liked to put different types of racisms together to see if they would make a baby.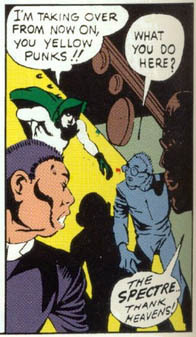 The Spectre is the all-powerful manifestation of God's vengeance. Good luck, yellow punks!

Look! Up in the sky! It's a parrot, it's an Elton John! OWW!! It's a dick!

Between Justice Society adventures there would often be Biff Bronson gags. Let the record show that THIS --wearing blackface and screaming mammy-- is the beginning, middle, and end of an entire Biff Bronson joke.

The Sandman says, "Real heroes always find time for intolerance, kids!"

When an artist draws Asian features this perfectly, no one notices Hawkman's wings are a gelatinous bag of nonsensical scribbles.

"TELL THEM JOHNNY THUNDER DIED FIGHTING SIAMESE TWINS, SCREAMING RACIAL SLURS AT AN ELECTRIC GENIE!"