Now we know the rules, so let's get started:
#5. The Justice League
It's unusual for an elite group of whites to be racist, but the Justice League had some problems with it. For starters, even their space aliens were Aryan. When Hanna Barbera adapted them into a cartoon in the '70s, animators had to invent four ethnic members just so they wouldn't burn through their supply of "flesh" paint in the first season. If you're not familiar, the racial heroes added to the Super Friends were: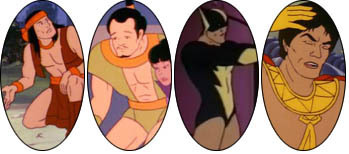 1. A Native American named Apache Chief who wasn't either of those things.
2. A Japanese guy named Samurai who wasn't that.
3. Black Vulcan, who actually was one of those.
4. A Mexican named El Dorado, which wasn't where he lived.
Apache, Samurai, Black, and El were conceived with the best of intentions-- making money off ethnic children, but they ended up being half-naked idiots acting out half-remembered cultural stereotypes. So I guess I'm only making the case that they are as bad as a Dane Cook set. Let's see if I can find instances of Justice League members being more objectively offensive.