When they were "discovered" in 1936, polite society was aflutter at the audaciousness of a creature that so directly flew in the face of convention and God's plan for the uprightness of all living things. But, as it turns out, the ancient Egyptians knew about them long before Western science, and even included them among their hieroglyphics, possibly as a symbol for the phrase "LOL WTF?" They subsequently gained a measure of popularity in the aquarium trade, although it's been found that they should never share a tank with aggressive fish, since bullies naturally tend to pick on scraggly whiskered, eyeliner-wearing misfits.
Jason Wilson/Flickr
You can often hear them complain about the lack of waterproof
Fall Out Boy hoodies available at Hot Topic.
The reason these fish swim around like nature decided they weren't worth the hassle of installing an inner ear is, unlike most catfish, they're surface feeders. They still slurp things up with their suckery mouths like one would expect; it's just that doing so upside-down simply makes the process easier and swimming more efficient. They eat just about anything and are pretty easy to take care of, just in case you feel like buying one to confuse the shit out of all the other fish in your home aquarium. Just watch your pH levels, give them plenty of places to hide, and always be on alert in case they decide to start cutting themselves to express their nihilistic sorrow.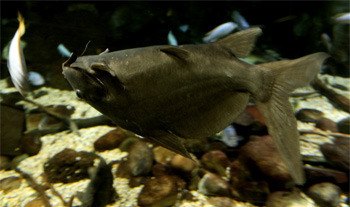 K J Payne/Flickr
Plus, when they do eventually die, it's much easier to pull off the "It's OK kids --
he's just going back home to the sewers" toilet-flushing gambit.