So she's confused when Natasha goes ballistic, shouting, "This is what's wrong with society today!" and going on about "PC police" calling everything "hate speech" and "crucifying" anyone who "isn't tolerant enough for them." She makes a mental note that her Fuck SJWs forum friends are going to love this one.
ratmaner/iStock/Getty Images
"Get this: She
had the gall
to suggest that social norms had changed in the last 30 years!"
This strikes Yvonne as a bit of a disproportionate response. She was just hoping Natasha would say sorry, quit doing it, and they could forget about it and go to lunch.
But Natasha thinks this is a power play where Yvonne "wins" if she can convince people Natasha is racist. Natasha envisions getting a scarlet R slapped on her and forever being known around the office as "the one that said 'wetback'" while everyone turns up their noses at her and feels superior. Yvonne must be doing this to gain status and look more "enlightened" than Natasha, who will lose status and have a black mark on her record; that is if she's EVEN ALLOWED TO SAY "BLACK MARK" anymore.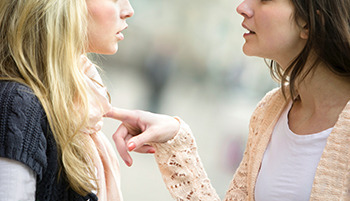 princigalli/iStock/Getty Images