Historically, Medicare hasn't been allowed to negotiate drug prices with manufacturers. Be it $13.50 or $750, if the drug company says that's what they pay, then that's what they pay. Democrats have long wanted to put an end to this, but Obama's promise that profits would stay intact is what ultimately led the pharmaceutical industry to invest millions into ads supporting Obamacare. It's been estimated that the industry stands to make as much as $35 billion in additional profits as a result of the law.
At least, that used to be the case. With his time in office winding down, Obama has executed one of the most victimless backstabbings of all time by going back on his promise to protect drug companies' profit margins. That's why they are now pumping their millions into PACs dedicated to overturning the Affordable Care Act.
However, none of that explains why drug company price gouging is big news right now. That all comes down to one thing: this stupid face.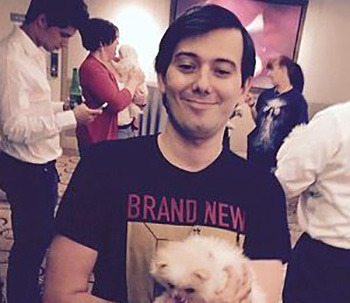 Twitter
How is that dog not even sort of making a play for his windpipe?
To be honest, I'd probably hate that guy no matter what he was doing. He could be curing AIDS, and I feel like a lot of people would still kind of want to punch him in the face.
Don't get me wrong; raising the price of Daraprim the way he did was an abhorrent thing to do. But if almost anyone else had done it, the ensuing media outrage wouldn't have been nearly as intense -- if there was any at all. The circumstances that allow people like Martin Shkreli to do this kind of thing need to be addressed. As awful as he is, we should at least acknowledge that his unrelenting douchebaggery played a huge part in giving drug price gouging the attention it deserves in the media.