It turns out those are Harvard college students.
Getty

"Today, we're going to learn about using our outside voice."
The authors theorize that this is what happens when parents see every moment of school, tutoring, tennis lessons and piano lessons as "productive time" toward building their little future doctor/lawyer, and see free play as a waste of precious time.
Even ordinary kids whose parents think playing is fine are getting their playtime trimmed down as schools keep cutting down on recess and gym.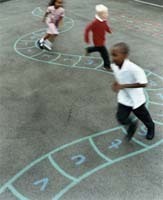 Getty

How I miss those endless hours playing "monorail."