Damn you, Zack Morris! Your inability to control your power has killed an innocent man!
It's all because you're most likely going to be interacting with your co-workers much more frequently than your boss. If you're viewed as an ass kisser, you're going to spend the majority of your day in a hostile work environment, because many of them will be sexually aroused from constant fantasies of your violent death. Since it's human nature to want to be liked, it's extremely easy for a person to do what's expected of them -- no more, no less -- in favor of fitting in and avoiding the negativity.
The problem is that the biggest promotions and raises aren't given to the people who do what's expected of them. The big ones are given to those who do more than what's spelled out in their job description. Am I telling you to start kissing ass? Hell no. Unless that's your thing, in which case I don't care if you flat-out french their butthole. What I'm saying is that you can't let your performance be dictated by how your co-workers will interpret it.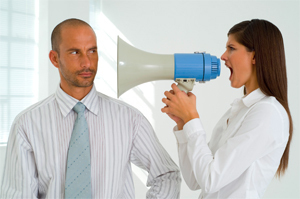 Jupiterimages/Pixland/Getty Images
Hopefully they'll have the decency to call you names behind your back.
Remember, many of these assholes probably won't even be working there in a few years anyway. And of those who are, wouldn't it be better to be their boss than constantly begging for their acceptance? I suppose it all depends on what you want out of the job. Speaking of which ...