And Michael Keaton turned out to be a freaking awesome Batman. The debate continues as to whether his or Christian Bale's portrayal is the best (in my opinion, Keaton is the better Batman and Bale is the better Bruce Wayne, if for no other reason than Keaton's Batman voice doesn't sound like a fucking Static-X song). Think of how improbable that is -- Michael Keaton is a physically unimposing comedic actor, and Christian Bale is enormous and terrifying. There should be no question as to which one of those guys would be better suited to play Batman, and yet there is. That's called "acting," cousin.
Similarly, the Internet exploded when Heath Ledger got cast as the Joker -- like Affleck, the majority of his starring roles were box office bombs, and the best success he'd had was playing in a '90s teen comedy, a 1970s rock opera about roller derby knights, and a dialogue-heavy drama about gay cowboys.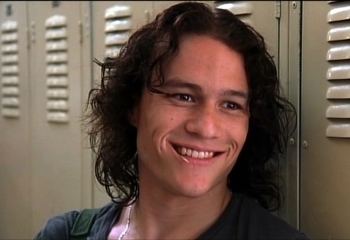 The Clown Prince of making teenage girls in the '90s swoon.
Those three things do not fare well on message boards, and neither did the idea of Heath Ledger playing the Joker. People thought he was too pretty, too wooden, and utterly incapable of being menacing. And those same people now so completely embrace Heath Ledger and The Dark Knight that they sent death threats to a film critic over a negative review of The Dark Knight Rises despite the fact that none of them had actually seen the movie yet. And that film turned out to be just as crowd-pleasing as a buttery dump in a public urinal.