Kilborn won the slot and hosted The Late Late Show, doing an absolutely predictable, uneventfully standard job at a completely conventional talk show, until he retired in 2004 to pursue becoming less significant on a full-time basis. Jon Stewart was left with Kilborn's leftovers, namely The Daily Show. It could have been humiliating to not only lose out to Kilborn but to be given the job Kilborn no longer wanted. But that's not how it panned out. Jon Stewart completely changed The Daily Show, and in doing so changed late night television.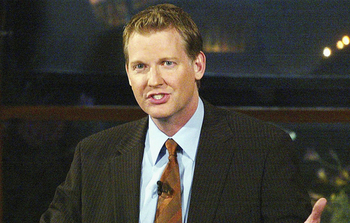 Frederick M. Brown/Getty Images Entertainment/Getty
Pictured above: Kilborn, approximately 20 years after he no doubt bullied some kid in a lunchroom.
When Stewart took over The Daily Show, it was very much a parody of news magazine shows like Dateline. And while it certainly was home to some very talented writers and performers, they were there in the service of a show that mixed SNL Weekend-Update-style headline jokes with celeb interviews and parodies of news magazine puff pieces. Stewart made the show political, hiring Ben Karlin of The Onion and shepherding monster talents like Stephen Colbert, Steve Carrell, Jon Oliver, and Larry Wilmore to greater notoriety. Colbert (who worked under Kilborn as well) has stated that Stewart encouraged him to have a political viewpoint.
In 2009, Time magazine found Stewart to be television's most trusted journalist. Suddenly, for the first time in 40 years, the most important show in late night was not a celebrity talk show. Suddenly Saturday Night Live was not the only place for comedy writers and performers to aspire. Jon Stewart took his rejection from the standard path for a stand-up comic and completely revamped late night television, becoming this generation's Walter Cronkite and Lorne Michaels rolled up in one.