No, this article has nothing to do with Soundgarden, but I thought it would be fun to have two of my heroes in one entry.
Back then, Jon Stewart was just a talented, semitically handsome stand-up comic. For my money, his Unleavened and Chris Rock's Bring the Pain are the two best comedy specials of that decade. In 1998, CBS had an opening for a late night talk show to follow David Letterman's. This was the break Stewart was waiting for. He'd excelled as far as he could as a stand-up, his movie career was not taking off after a series of lackluster supporting roles in Big Daddy, and Playing By Heart. He needed this. Except CBS decided not to select him for this opening, opting instead for Craig Kilborn. You might remember Kilborn from Old School, where he was the womanizing prick who seemed not at all to be acting.
Kilborn won the slot and hosted The Late Late Show, doing an absolutely predictable, uneventfully standard job at a completely conventional talk show, until he retired in 2004 to pursue becoming less significant on a full-time basis. Jon Stewart was left with Kilborn's leftovers, namely The Daily Show. It could have been humiliating to not only lose out to Kilborn but to be given the job Kilborn no longer wanted. But that's not how it panned out. Jon Stewart completely changed The Daily Show, and in doing so changed late night television.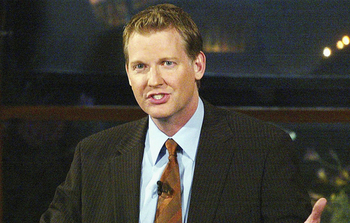 Frederick M. Brown/Getty Images Entertainment/Getty