he
is. This continues for a couple hours, at which point Mr. Roboto's great-great-grand-robo-children are so smart, they decide the best way to deal with "the human problem" is to send an android back in time to murder Sarah Connor.
Voila! Humans are obsolete.
Why It's Plausible:
The big question here is whether you believe it's theoretically possible for humans to create a robot as sophisticated as a human. If you're a person of faith, you've got the whole immaterial soul thing to throw a monkey wrench into the works, at least until we manage to replicate the human soul using a powerful lens, some magnets and the tears of an orphan.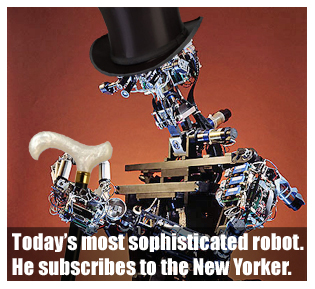 Even if you're not religious, creating a robot that functions on the same level as a human being seems like a tall order, but think about it this way: the guy who built Deep Blue could probably shit a diamond more easily than beat it at a game of chess. And I'm guessing the guy who invented the hydraulic press couldn't crush a car, either. And just
try
to recreate two midgets having sex with a horse more realistically than your computer monitor. Not gonna happen. The fact is, we've made plenty of technologies that are more capable and efficient than we are at particular tasks. And the rate at which our technology has improved is only increasing. Is it too much to believe that at some point in the future we will build a machine that can problem solve and predict better than we can? That can actually think? And is it too much to believe that that machine will then immediately wage war on us with laser cannons? I submit that it is not.
Upside:
OK, so there's no particular reason our robot superiors should
instantly
want to kill or enslave us, other than that it makes for a much more entertaining movie than
Bicentennial Man
. Assuming we could retain control of our robots as they got ever smarter and more powerful--say, with some Asimov-style laws hard-wired in--there's a chance we'd actually come out of this with a willing race of slaves who know everything and can do anything. Not the worst deal ever.