And I would totally agree with you. The only problem is that I watched the two movies that came before it, and they kind of tell a different story.
Heath Ledger's Joker is hypnotic. The best time to rob me is when I'm watching The Dark Knight. "Mind if I steal your laptop?" "Yeah, sure, whatever. Scar story is coming. Shhh." But in between Ledger zig-zagging through that movie like a clown-faced pinball, there's a lot of stuff about Batman not really wanting to be Batman anymore. And you don't just infer this from all of his frowny reactions to crimefighting. He outright tells Rachel, who is with another guy, "I feel like this Batman thing is going well enough that I can maybe quit it pretty soon. And then we can hook up." So we already establish Bruce Wayne as a guy who will throw his costume in a dumpster at the slightest whiff of a lady telling him that maybe they should go out after this superhero shit expires.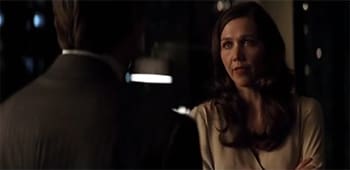 Warner Bros. Pictures "So you'd give up on the whole 'AVENGE MY PARENTS' plan to sleep with me? That's a little desperate."
Him being a little iffy about this whole Batman thing and then appearing at the end of Rises at a cafe with kindred spirit Catwoman isn't a sudden reversal of character. He and the side characters of Gotham city can go on and on about "enduring" or something, but even Batman said, "IT'S WHAT I DO THAT DEFINES ME. SHIT, NINJAS." And what the Dark Knight does is fight crime until he feels sad or a lady gives him an option to make out some more.