Say hello to basketball's "angry phase."
grassrootswritersguild.wordpress.com
"Everyone remembers where they were when Jordan tombstoned Mankind through the top of that thing."
Yes, up until the mid-1930s, basketball games were contested in a cage. Unruly fans kept charging the court, and the ball kept ending up nowhere near the hoop, because 1930s basketball players and fans were both terrible, but for completely different reasons. The solution? Encase the court in 12-foot-high steel mesh so the crowd stays out and the ball stays in. Fuck security; that costs money. And fuck drawing boundaries; that involves time and effort. Shutting people inside a giant chicken coop is fun, cheap, and easy.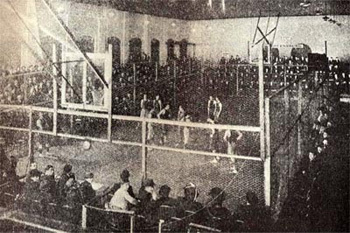 blackfives.org