Why It Was Old News: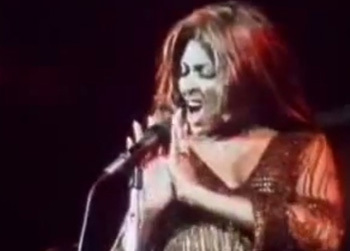 Hey! Did you ever see that 1968 Madison Square Garden performance where a practically topless Tina Turner pretended to do fellatio on a microphone while Ike Turner made slurping noises in the background? No? Here you go!
Hey, again! Did you ever see that time Debbie Harry walked on a stage without her panties (or pants)? Here's the version of that time that I'm allowed to publish on this website:
last.fm
In case you're wondering, Debbie is not a natural blonde.
If ever there was an appropriate time for the phrase "don't hate the player, hate the game," this was it. Because Miley Cyrus is playing a game. And she's winning it hard.
For good or bad, for almost as long as women have put themselves on the stage, they've used what the good Lord gave them to get your eyes on their bodies and your ears on their voices. Madonna, Lady Gaga, Christina Aguilera, Debbie Harry, Janet Jackson, Britney, Cher, Tina Turner, and middle-aged Julie Andrews are all part of a long tradition of scintillating while entertaining. Oh, did you miss that part where I said Mary Poppins has performed with her bosoms unswaddled?
Warner Bros.