What follows is a typical action movie roller coaster: Things go awry when Troy wakes up, staples Archer's face to himself, and convinces everyone that he's the real thing, then the fairly awry things go even more awry when the original Archer finds and murders his evil doppelganger with a spear gun.
Why We Should Have Seen It Coming:
Wait, "Pollux"? That can't be a real name. That sounds more like a rejected bee-themed supervillain from Captain Planet. In reality, the Troys' monikers are a reference to Castor and Pollux, two brothers from Greek mythology who make up the Gemini constellation, which is Latin for "twins." In the movie, Troy and Archer sort of become each other's twin, and suddenly, BAM, you're in John Woo's symbolism land!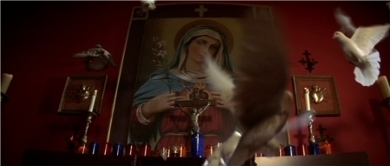 Hope you brought an umbrella.
Castor and Pollux were also brothers of Helen of Troy and the protectors of sailors, which featured prominently in the movie finale when Archer chased Troy in a speedboat.