Part of me knows if I eat one of those peppers and record the result, many a laugh will be had at my discomfort. Human suffering is genuinely amusing when it's the sort of suffering someone brings on themselves and is mostly cartoonish in nature. Wouldn't you like to see me eat an outrageously hot pepper and then writhe in agony? Of course you would. But I have trepidation. Not for the first round of pain; that's to be expected, as my insides knot in fiery torment and panic-sweats blind me while I blubber like a guppy desperate to find a puddle. No, it's what's coming a few hours down the road.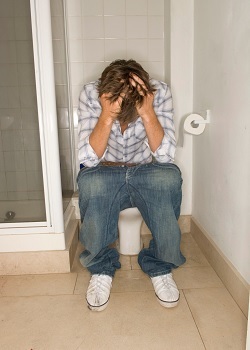 Ingram Publishing/Ingram Publishing/Getty Images
In lieu of bathroom reading material, bring along a priest
to read you your last rites.
It's 2016 -- we have scientists working on things like space elevators and cloning individual human organs and performing face transplants, and yet no one has managed to find a way to eliminate the fire squirts? There's a whole cottage industry out there for spicy foods and sauces; people love seeing how much they can tolerate, but none of us enjoy the devastating aftermath of literal asshole burning. Is there no pill that a human can take to help absorb the capsaicin they've consumed? No medicine we can take a spoonful of to ensure that the hot sauce we're only supposed to open with welder's gloves will ease on out, like soft ice cream from Dairy Queen?